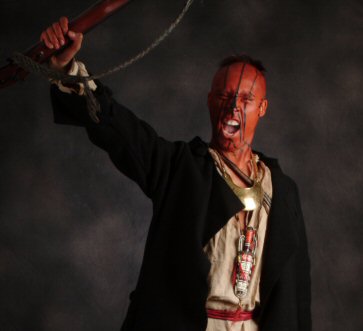 The Wampum Chronicles
Living History Workshop
Akwesasne, January 31, 2004
Photography by Tom Semeraro.
All images copyright 2004 The Wampum Chronicles.
Not to be reproduced without written permission.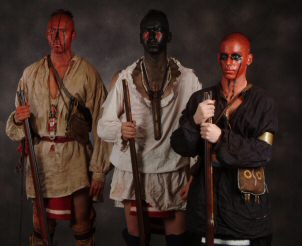 Left to right: Mitchell Angus, Stefan Lyons, Deacon Hall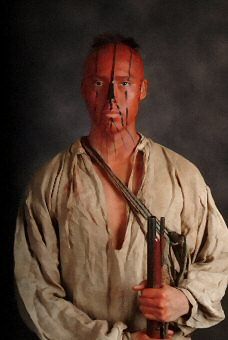 Mitchell Angus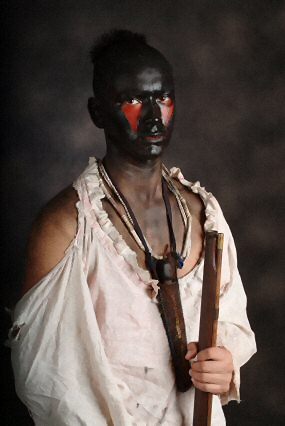 Stefan Lyons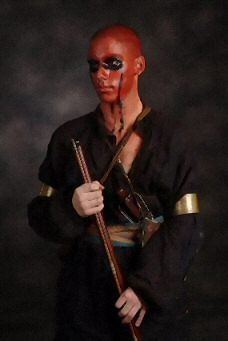 Deacon Hall
Even the lofty George Washington was intimidated by the stature of the Iroquois.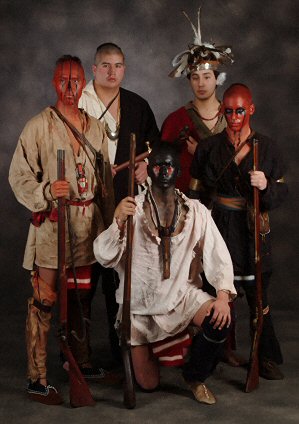 A freshly-shaved Alfred Terrance and Will Mitchell join in.





The Wampum Chronicles Living History Workshop

was a great success! Fred Deogostino and George Efinger, both seasoned 18th century reenactors (specializing in Native American portrayals) were on hand to "break in" a few brave braves.

Also on hand were Brent Boyd and Michael Galban, both well-respected for their ability to create knife sheaths, moccassins, pouches, and other items from the 18th century.

Several Mohawk artisans were on hand to learn how to make centerseam moccasins and to learn about the construction of trade shirts, leggings, and breechclouts. In no time at Brent and George had people tracing their feet for moccasins, and before I knew it, several of my finest hides were being cut to bits! (Note to self: charge admission next time!)

Meanwhile, five of the dozen or so young men on hand stepped forward to get either dressed up, head shaved, painted with pigmented bear grease, or all three. (For their participation, they got to keep the new wool breechclouts they wore for the photos.)

Tom Semeraro took care of the photography. As you can see, it pays to have a pro!

Due to limited space, this was an invitation-only event, but I hope to organize a larger event which will be open to the general public, as well as smaller workshops for specific subjects, such as fingerweaving, flintlock gun-making, moose hair and porcupine quill embroidery, and of course First Aid.

Niawen-kowa to Jason Cree and the staff of Wolfclan Truckstop, Hotel and Banquet Hall for hosting us, and to Phil Tarbell, Randy Hart of Village Currency and Exchange, and Gus Pyke and Sheila Adams of the Ononkwasona Pharmacy for their kind donations. Niawen to Brent Boyd, Mike Galban, and everyone else who participated in the workshop.

Last but not least, high fives to Wampum Chronicles Videographer Jade and Chief of Security Elijah!