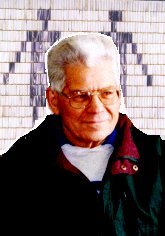 Julius Cook

Sakaronhiokeweh

He Wipes the Sky

May 16, 1927 - June 9, 1999

A Tribute to a Mohawk Wampum Belt Maker

by Darren Bonaparte



In the summer of 1999, the community of Akwesasne lost one of our prized artists, Sakaronhiokeweh, also known as Julius Cook. Sakaronhiokeweh was well-known for his abilities and talents as a silversmith, but what most people don't know about him was that he also had the distinction of being the first Mohawk wampum belt maker in about 200 years. In 1998 Sakaronhiokeweh wove a replica of the famous "Wolf Belt." He made it out of real wampum beads fashioned from quahog shell, the same type of shell used for wampum beads for many generations.

When Sakaronhiokeweh finished this labor of love, the final product was a sight to see. The graphic symbolism of the belt and the beauty of the beads themselves combined to make it more than a reproduction of a historic and cultural artifact; it took on a life of its own and carried its own sense of power. For those of you fortunate to have ever seen a real wampum belt, not just those cheap replicas made with those purple and white glass beads or even mother-of-pearl, you will know the kind of impact real wampum has, especially when one is aware of the central role it played in aboriginal diplomacy and ceremony. That Sakaronhiokeweh left behind this legacy before passing on to the Creator's land was, to my mind, a fitting tribute to the kind of life he lived and the kind of man he was. Sakaronhiokeweh didn't just make things of wampum, he was wampum.

As is usually the case, a person usually grows up to embody the meaning of their Mohawk name. Julius Cook's name was Sakaronhiokeweh, which means "He Wipes the Sky." In my mind, Sakaronhiokeweh took the things the Creator perfected and somehow improved on them. This is the essence of what it means to be an artist or a craftsman, to take the things of nature and make them your own, to add your own "polish."

Throughout his life Sakaronhiokeweh was many things. A month or so before he passed away, I had the opportunity listen to him talk about his childhood, and the things he did as a kid, like pick butternuts and hazelnuts in the woods of Raquette and State Road. He told us one story about how he found a squirrel's secret stash of nuts beneath a rock and proceeded to gather them up, only to be told by his uncle that he would have to take every last one of them back to the squirrel and find his own from then on. With a big aerial photo of Raquette as his guide, Sakaronhiokeweh pointed out other land features that have since disappeared, such as the farmlands and pastures that were once so prevalent at Akwesasne. He showed us where the St. Lawrence River used to jam up with ice before the Seaway was constructed, and how people used to cross the ice with little fear. The aerial photograph, taken in 1942, brought back some happy memories for Sakaronhiokeweh. I detected a twinkle in his eye as he told us about those "good old days," but then again, he always had that twinkle in his eye.

Like many Mohawks of his age group, Sakaronhiokeweh served in the United States Army upon graduating from Massena High School. His family in particular was noted for their service to their country: his brother Andrew gave his life in combat and his brother Bill was a fighter pilot in World War II. The war was over by the time Sakaronhiokeweh got out of high school. He was stationed in Germany, which was slowly recovering from the devastation the Nazi campaign had brought to their people. Returning to America, he later became a steel worker and worked his way up, literally and figuratively, through the ranks of the ironworkers and earned himself a solid reputation as one of "the men who built America."

Sakaronhiokeweh was a strong family man with a keen sense of community. He and his wife, the former Elda Benedict, raised their 2 children with the same strong values that guided themselves throughout their lives. In later years Sakaronhiokeweh served Akwesasne as a chief on the St. Regis Mohawk Tribal Council and took civic responsibility seriously. He sat on many boards and committees and was quick to volunteer his time to the causes he believed in. He was a member of the Masonic Lodges of Massena and Fort Covington, the Andrew W. Cook American Legion Post 1479, and the Fretted Instrument Guild of America. Few will forget the smile Sakaronhiokeweh had on his face when he played the banjo at the Akwesasne Freedom School fund-raisers.

Sakaronhiokeweh was an artistic man who paid tribute to the beauty around him. Already familiar with metallurgy from his days as a welder and ironworker, he created some of the most beautiful silverwork ever seen in Rotinosionni country. His works became the prized possessions of anyone who was fortunate enough to own them. Almost every couple had to have his rings for their weddings or anniversaries. He infused the symbols of the Mohawk culture into his jewelry and gave new life and significance to them. As a member of the Longhouse, he cherished the teachings of his ancestors and lived by the codes that so many of us only talk about following. This came through so clearly in his silverwork.

It was only fitting then that Sakaronhiokeweh would be approached to undertake the task of creating a new wampum belt, the first project of its kind since the 18th century. An artisan in Massachusetts had perfected a way of producing the beads using modern jeweler's equipment and was making them commercially available. Previous to this, anyone wanting wampum had to make them by hand, a laborious, tedious process by any standards. Even with the new technique of producing them, they were still expensive and delicate enough to make constructing a new wampum belt, even a small one, a project for only the most adept of artisans. At Akwesasne, that could only mean one man, Sakaronhiokeweh. His skilled hands, his artistry, his love of his Mohawk people and culture, and his years of dedication to his community all combined to make Sakaronhiokeweh the ideal wampum belt maker, the first of his kind in many, many generations.

The wampum belt Sakaronhiokeweh wove is a replica of the "Wolf Belt" held by the New York State Museum in Albany. The story behind that belt takes on a greater significance to those of us living today because it symbolizes so much of what we have lost as a community. Like the tradition of making wampum belts, those elements of our history and culture are coming back to us, but only through patient study, diligent searching, and an ear to ancestral voices carried only in the winds. Sakaronhiokeweh understood this and encouraged young people in the community to do their best to recover those parts of our culture which had been lost or were on the verge of being lost, such as the language, songs, and ceremonies.

About a week before he passed on to the Creator's land I went to visit Sakaronhiokeweh to discuss the Wolf Belt he made. I needed a good picture or diagram of the original belt so that a friend of mine could make me a reproduction. Sakaronhiokeweh and I sat at his kitchen table and discussed the hazards of working with real wampum, how they break so easily and have to be carefully glued back together. He told me how many times he cursed the photo of the original wampum belt because of its low resolution and eventually ended up doing a more idealized version, since the original has missing beads and appears to have been damaged and re-strung using beads of a different size. He also told me how he was beginning to work wampum into his silver jewelry. He seemed really excited that real wampum was making a comeback and was glad to be a part of it. I reminded him that he was probably the first Mohawk wampum belt maker in two centuries. He smiled at the thought of that. When I left him a few minutes later, that smile was still on his face. That was the last time I saw Sakaronhiokeweh before he began his journey to the Sky World.

In the past few years museums have begun to return wampum belts, strings, beads, Hatowi masks, human remains, burial goods, and other ceremonial items to the Rotinonsionni and other aboriginal groups under the Native American Graves Protection and Repatriation Act. I was present at the Onondaga Longhouse when one collection was returned a few years ago. The Wolf Belt was not among the belts that have returned so far but I am told that this is in the works. When it returns to Akwesasne, it should take its place besides Sakaronhiokeweh' reproduction in a central location at Akwesasne where everyone can see it and learn from it. I use my own reproduction of the Wolf Belt in historical presentations to community groups and in the schools. I allow everyone to handle this belt, since it is made of synthetic wampum that is much more durable than the fragile shell beads, and I teach them about the things my research has uncovered about the original Wolf Belt. I also tell them about the Mohawk wampum belt maker I had the privilege of knowing, a man by the name of Sakaronhiokeweh.